5 Common SEO Mistakes You Might be Making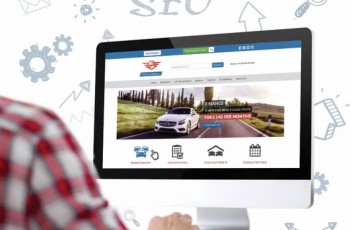 According to the NADA 2017 mid-year report, there are 16,812 franchised new-car dealerships in the USA. The number of independent dealerships can't be determined so precisely, but approximately, there are more than 100K both new-car and used-car dealerships. Due to such competition, customers can never reach your website without proper search engine optimization or SEO, even if you do your job extremely good and you spent a fortune on a car dealer software.
Maybe, you have already implemented automotive SEO into your marketing strategy, but you don't see tangible results. You've been working on it for several months, but your car dealership still appear on page three or two. SEO does take time to kick in, still there are common mistakes being made that can restrain your website from moving higher on the search engine result pages or SERPs.
Autoxloo SEO team has collected 5 car dealer SEO mistakes as well as recommendations how to avoid them.
Keywords stuffing

'The more the better' approach doesn't work with keywords on your pages. Yes, you need to optimize your content for the relevant keywords, but don't get carried away. If your content is stuffed with keywords like a turkey, it definitely won't help you improve your SEO. Instead, such manner can be taken for spam by search engines.

Ignoring title tags and meta descriptions or using automatically generated ones

Title tags and meta descriptions help search crawlers understand what your page is about. So, the blunder that can lower your automotive SEO effect is to have the same text as the title for every page throughout your website. Each page contains unique data, thus each title should be unique as well. Don't put the name of your dealership as a title for every single page, your homepage title should mirror the name of it.

To improve local search rankings, add your location in title tags and meta descriptions. For example, if your showroom is located in Florida, title tag can look like this:

'123 Dealership – Used and Certified Pre-owned Cars for Sale in Florida'.

But the rest of the pages should be described differently:

'Salvage Acura Cars for Sale in Florida | 123 Dealership'

'Certified Pre-owned SUVs for Sale in Florida' | 123 Dealership'

'Used Car Trade-in Florida | 123 Dealership'

In this way your dealership name will still be on each page, but the search engines will understand what the page contains.

Meta descriptions of each page enhance your car dealer SEO as well. It is 160-character long essence of what you offer. For example, homepage description can look like this:

'123 Dealership offers Certified Pre-owned LCVs, SUVs and RVs for sale in Florida. 123 Dealership also offers used LCVs for trade-in'.

Neglecting long-tail keywords

Content, optimized for broad keywords, like 'new car dealerships' faces huge competition in search engine result pages. Instead, long-tail keywords are very specific, unique phrases people use to extract data from the Internet. 20% of all queries is a long-tail, it means that one out of every five searches is unique. This kind of keywords gets much fewer searches, which means the conversion there is much higher whilst the competition is low.

People who perform long-tail searches, know exactly what they are looking for. They are not tire kickers, but actual buyers with defined goals. It is another reason why you should optimize your content for the long-tail keywords.

Specify your keywords for your location and inventory to engage local users:

'new car dealerships' → '2018 Toyota Camry Tampa'

Such optimization will considerably improve your automotive SEO.

Choosing content quantity over content quality

Here is the same thing as with stuffing your content with keywords: search engines will notice it, moreover, your visitors will notice it as well. Poor quality or duplicated content is not an option if you want to retain your readers. One good and useful article is much better, than 10 meaningless pieces of information.

Trying to cater to search engines more than to your visitors

SEO is important, but the visitor's satisfaction should be your paramount target. Always keep in mind who you do it for – not for search engines, but for customers. They are your greatest asset. If your content is valuable and useful, visitors will find you even if Google rolls out a brand-new algorithm (they love doing it) and your website will temporarily drop to the tenth page.
SEO is a great tool for every business with Internet presence, but incorrectly implemented optimization can make you think that SEO doesn't work. Don't jump into conclusions and don't give up: you are just a beginner, every beginning is tough. Autoxloo offers you our assistance with SEO and SEM. Contact us to get to know which mistakes are in the way to first page ranking.