Meet Auction Streaming at NAAA 2022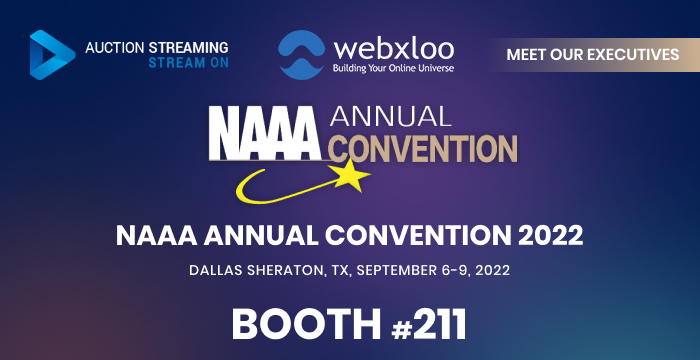 It's official – Auction Streaming exhibits at NAAA 2022 Annual Convention! We are excited to meet you at the Dallas Sheraton Hotel, September 6-9, 2022, in Dallas, Texas. Find our talented team of professionals at the booth #211 and get the latest insights in the Automotive wholesale & retail industry. Book a meeting with our executives during the event to discuss your challenges and bottlenecks and how Auction Streamings' software can help you address and solve them.
As automation becomes more and more popular, it is crucial for a business to have a well-trusted system to ease the process. NAAA 2022 invites the best solution providers to exhibit their latest and most effective innovations. This year, Auction Streaming will be showcasing a number of its solutions that you can learn about at the booth #211.
Auction Streaming (a subsidiary of Webxloo LLC) is the first and only AMS provider, with a fully functional and independent online cloud auction management system called CAMS-3. The software features a rich and stable platform, with a complete and comprehensive suite of essential products and services critical to the wholesale space.
"Expect more from your providers, retain more customers and see immediate cost savings with higher ROI from day one, when utilizing the full suite of CAMS 3™ modules." – explains David Vahman, CEO of Webxloo LLC.
Another product you will find at the booth #211 is SIMCASTS™ Mobile Dashboard, SIMCASTS™ mobile app version, a tool designed to let dealers participate in live auctions from their mobile devices. The Mobile Dashboard app provides website functionality that's been converted into a mobile application. Now the most popular features of the desktop version are available to your dealers anytime, anywhere, and even if they're away from the auction lanes.
To ease the dealers work, the team developed AuctionLink™, a platform that pushes your inventory to other online marketplaces, including Smart Auction,Ove and Adesa. The tool allows you to list and delist your inventory automatically, saving you time and repetitive tasking. After a vehicle is sold on one of the platforms or is marked as "Sold" in the DMS, the vehicles will be removed from the remaining online auctions in minutes, to avoid double sale fees.
To add to your automation tools, the If-Sale Counter Offer feature will be presented at the booth #211. The If-Sale function automates the negotiation process, allowing buyer and seller to negotiate in real-time without the need to wait in line or any auction staff being involved. By doing so, the labor costs, as well as the time spent on negotiation, can be decreased.
Another useful tool to save time and sell more is 360VIR™ Exterior Spin with Tagging. It easily adds 360 panoramic vehicle presentations with interactive embedded hotspots capturing every detail or damage, which increases customer confidence.
This is just a small fraction of solutions provided by Auction Streaming that you can discover when you approach our booth #211 at NAAA 2022. We are excited to meet you on September 6-9, in Dallas, at the Dallas Sheraton Hotel.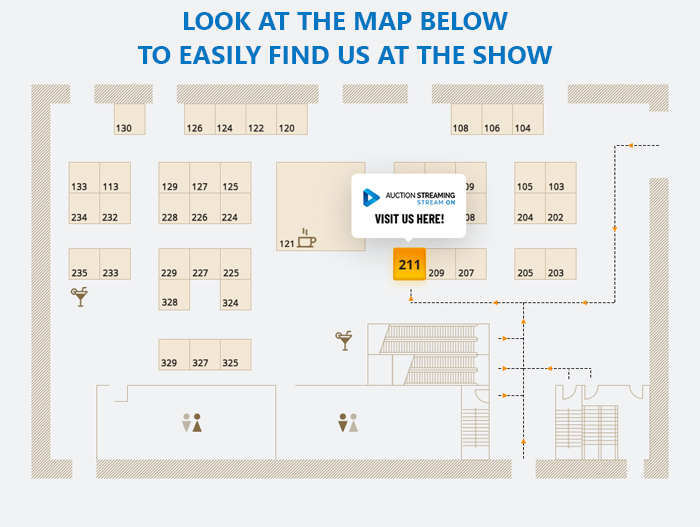 To see the event agenda, click HERE.