Promote your Dealership on YouTube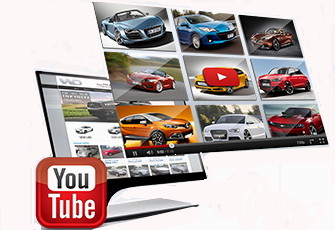 Can you think of ways videos can assist you as a dealer? According to Brainshark Inc., 46% of people say they'd be more likely to seek out information about a product or service after seeing it in an online video. Video is a major influence on consumers making a purchase decision. According to Alexa.com, the average user spends 18 minutes on YouTube. More than 8 years of content is uploaded to YouTube every day. It's 20% easier to rank #1 with a video result as compared to a website. Besides, video can demonstrate your dealership uniqueness and could be the key to building customer loyalty.
Use following tips to do your dealership's YouTube channel better, engage your customers and ultimately sell more vehicles:
 Upload video regularly, YouTube channels that are updated regularly will rank better than those that never are
Add Call-to-Action to every your video: leave a comment, subscribe to your dealership's channel or simply like the video.
Provide customers with an embedded phone number in the video and a link to a landing page with all the details about product or service along with the dealership's contact information.
Include keywords in the video title and add the word "video" to title, description, meta data as customers often use the word while searching.
Attract clients with the right thumbnail. The one that best captures the essence of your video.
Create a custom background of your channel to match and reflect your dealership.
Set up playlists to sort your videos vehicles' make or model, by ads, promotions and special events, by testimonials etc
Reply to comments people leave on your video on a regular basis to maintain and grow relationship with your customers.
Introduce your dealership to others. Video is an easy way to share and spread information. Showcase your dealership with Autoxloo on YouTube! Contact us now for managing your YouTube channel!