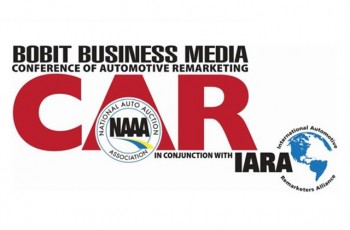 The outstanding keynote speakers, an impressive partners' list, top authoritative exhibiting companies, 247,6 ft2 exhibit area, 7,000 visitors and, of course, the tempting Las Vegas – it's all about the 22nd annual Conference of Automotive Remarketing (CAR) 2017 organized by Bobit Business Media. In partnership with National Auto Auction Association (NAAA) and International Automotive Remarketers Alliance (IARA) CAR welcomed heartily all big and small players of the auto auction industry.
This year the event was attended by over 5,000 specialists presenting the remarketing sphere: dealers, consignors, auto manufacturers, banks, financial institutions, IT companies, auction companies, vehicle inspection companies, etc. The presenters, exhibitors and attendees had a good possibility to learn about the vehicle industry changes, new and existing business trends, forthcoming announcements, etc. CAR 2017 gathering provided the long expected occasion with all the necessary technical, informational and media background. It gave all the participants an excellent opportunity of the most effective and productive cooperation, networking, contacts and partnership establishing.
This year CAR 2017 offered its hospitality to a record number of the world's consignors that greatly influence on the cargo shipping conditions. Nissan, Kia, Motorlease, Bank of America, General Motors, Subaru, Ford, Element, Ally are just a few names in the industry leaders' list that develop and modify the vehicle shipping capabilities to help auto dealers and private sellers' businesses.
Autoxloo couldn't lose the chance to take an active part in the CAR show. We were happy to meet our long-time business partners and peers and make connections with new ones. We are grateful for the respect, trust and loyalty our colleagues expressed. We look forward to sharing our knowledge, experience and innovations! Contact us to join our big and friendly team!