Car Listings & Datafeeds
List your vehicles safely
Autoxloo designed its technology, services and support to deliver superior inventory data and vehicle images, management and online publishing. Online Vehicle Listing Services allow our clients to list online to popular sites including Craigslist, eBay, AutoTrader and many others.This service can fit any budget. Monthly pricing will allow customer to calculate expenditures. Per vehicle price will help customer to choose certain car.
Lead conversion on the Internet changes everything you thought you knew about selling cars
Unlimited potential in listing vehicles locally, nationally and even internationally
Leverage the Internet to help you sell more cars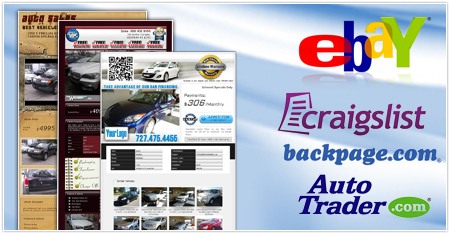 Offering innovative and affordable marketing solutions for dealerships
MORE leads with less marketing dollars
MORE sales with less effort
MORE vehicle listings for less money
MORE Internet marketing and less classified ads
MORE visibility of your dealership and less tire kickers
80% of people looking to purchase a vehicle begin their search online.
The Internet is the most important and underutilized sales channel available to dealerships!
International Vehicle Listing
International Vehicle Listing can be complex, it has to be done right. Our professional team will guide you if you are truly looking for quality service designed to add value to your dealership and save money.Selling internationally in many ways is easier than selling a car locally (in most cases there is less paperwork). See for yourself what so many of our customers already know, that advertising cars, trucks and SUV's overseas is just as important and in some cases more important than advertising locally. Reach customers anywhere, maximize business opportunities. It's time to become international.
Trends Favor International Vehicle Sales
International Commerce increases Year to Year
Favorable Exchange Rates
Technology Simplifies Transactions
Favorable Demand for certain Make/Models in other Markets
Disposable Income Increasing in developing countries