Successful Posting to Classified Services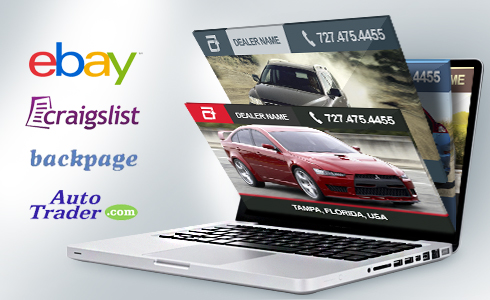 Solid Lead Conversion with Autoxloo Classified Posting
Autoxloo provides dealerships with classified posting services designed for automotive Internet marketing. Using our fully managed Automated DMS services, posting classifieds ads has never been so easy! We are pushing your vehicle inventory to multiple online listing sites that is why more dealerships are switching to the Autoxloo Dealer Management Solutions. For any dealer who is doing advertising, we are ready to distribute eye-catching design and attention-grabbing graphic content. With us everyone can have a high impact and highly measurable online advertising program.
We will post your ads on Craigslist, Backpage, eBay, Autotrader, Kijiji, Gumtree, OLX and other numerous listing sites. Posting on classified sites is no doubt a source to more traffic. Achieve maximum exposure to your target location by posting ads to as many relevant locations as possible. To find a successful formula for posting can take a lot of time. Classified services like unique ads, it's not impossible but takes great amount of time too. This is exactly why we've created a solution for this problem.
Use eBay in order to give millions of customers around the country an opportunity to see your listing or focus your selling locally. All our data is synchronize with eBay server. Easily build real-time reports: how many times your vehicle was viewed, what bids were made, what time of day there were most bids etc We can offer you 2 options: eBay local market feed or manual post. UI is designed specially for comfortable manual posting: choose template, listing icons, listing type, deposit or full payment methods.
Showcase your vehicle inventory not only on eBay, but on Backpage too, second largest classified ad listing service on the Internet. And again we offer all data about posting your vehicle and amount of clicks on your ad. Enjoy the ability to see how many prospects come to your site from the ad.
Easily preview your eBay or Backpage templates in our DMS to make sure that they look the way that you want them to. We also have software that helps to make a template for classified services like Backpage and eBay in a quick way. With Make-A-Template™ module you can customize templates any way you like. You'll be able to add your logo, set your colors, styles and fonts. It is possible to resize, rotate and arrange items within the template. You can manage all new leads with the help of our convenient CRM integrated with PBX, email, Live Chat and SMS communication with clients. Besides, the winner of the eBay bid is automatically added to our CRM.
And of course, don't forget about Craigslist that has become one of the biggest lead conversion in the automotive industry. It boasts over 20 billion page views every month. Using our DMS you have all important info about a car in one place, you can preview your ads or even automatically post it directly from the DMS to Craigslist. Even more, you can show us what vehicles to post via DMS. Put Craigslist tag on required vehicles and voila, you don't have to give us additional instructions. Choose the most convenient package for you. New vehicles added to the inventory will be uploaded within 24 hours. Multi state and region capability. We offer call tracking number with voice record. As always all statistics is gathered in one place for your convenience. As Craigslist charges for cars & trucks by dealer ads, you can pay via your Credit Card or open an account if you regularly post ads to the site. With us you don't have to enter your credit card information or account information with every post. It will be automatically posted.
Extra info can make all the difference in separating your car from others listed. Give your customers all accurate data on the vehicle that they are interested in purchasing: vehicle photos, detailed options, vehicle condition information etc Some dealers use Paint, Photoshop or other tools to put text annotation. But these tools were not designed specially for automotive dealers. Unlike from our drag and drop patented technology Etch-A-Word. This software gives your dealership the ability to add descriptions, text, graphics, logos and frames to your vehicle photos quick and without difficulties. Offer detailed information about your dealership such as name, contact info, address, website. Showcase not only a single vehicle but your dealership in whole. Your listings will have increased visibility without having to pay premium placement fees.
Increase leads and internet sales, boost traffic to your dealership website and stand out of your competitors with Autoxloo Posting Service!